By Jenny Coffey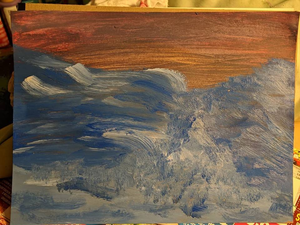 Too many days the mind takes over and it's the wrong part of the brain that is active. We all have moments, some worse than others. There is so much i have done wrong; there is no way to "fix" or change a thing. I guess I should stay happy knowing I lived and didn't take anyone out with my attempts at self-sabotage. 
I shouldn't say attempt. I should say success. In my wild uncontrolled efforts to get people to "forget me" I made them hate me. The further people were, the better, so they didn't see all the shame and failures that hid behind what everyone thought was "perfect." 
The high school sweetheart marriage that would never end. At least that is what I thought. I would always say i would never go for a divorce until divorce was the only way life would be saved, and not just my own. I was watching the destruction of my life's work at home, at work, even things I had spent over a decade building, gone in a blink of an eye. 
The dominoes started to fall and with them the ugly truth exposed for all to see. The drunk with a fowl mouth so bad that it would sting and hurt badly, especially when others saw only the front and never the dirty inside. Being called a lier in the face of admission to what I had allowed my life to become and how it affected others. The sounds of cries and screams haunt me still; one nightmare is the night before the mastectomy. G-d was I terrified and still trying to be strong and hide the bad from everyone, one could argue even my conscious self. 
My birth mother enabled that by encouraging a drink, because she should be able to have one too, and by helping to hide the abuse. The same person who said I was to blame pretty much for everything that has happened in my lifetime since the day of my birth. Cemented into my head by the age of five by "family members" too many to list, and sadly none could care less. 
It's sick when I stopped and realized recently my suicidal thoughts started when I was around the age of five or six. I have fragmented memories. I have often thought it a gift my brain gave to myself to protect me from the horrors of youth. Swearing to be different I married and lived with the abuses I tried to avoid. I tricked myself into believing I was better at it than anyone. That I was big and bad and could do it all. 
Even when the walls started to crumble, when the illusions became apparent to others, when hiding was no longer an option, it broke what little of my mind was left. Lashing out at the world and wishing to disappear from everything, I succeeded. 
I made the world hate me and that was the nail in the coffin. My fate sealed, I sit today and examine the trainwreck of a body and life I now have, and can only blame myself in the end. 
Doesn't matter what happened or what was done, I have to own all of it and try to find a way to forgive myself. G-d help me.