By Matt Connarton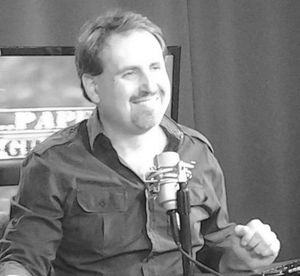 Look, even before this most recent controversy, I was already conflicted about Tucker Carlson.  I'm allowed to be, by the way.  I'm not a binary political thinker, therefore I am unburdened of any obligation or expectation to reflexively defend or condemn Carlson based on ideology.  Politics has never been that simple to me, and neither is this latest Fox News host kerfuffle, so let's get this part of the way up front. 
On the downside, I find Tucker's rhetoric on immigration infuriating.  With somewhat more subtlety than Ann Coulter or Steve King, and slightly less than Laura Ingraham, he likes to hang out in that very narrow space between xenophobia and racism, that sweet spot that pulls in ratings for his nightly show without inadvertently driving out sponsors.  It's nice work if you can get it, and Tucker exudes that special Archie Bunker-esque lack of self-awareness that lets him get away with not having to confront his own prejudice, because he literally doesn't know it's there.  Watching him defend, and also mourn, his precious mostly-white America, you can see the naivete and cluelessness that often come with being guided by not necessarily hate, but simply fear. 
On the upside, for a Republican on the network whose key demographic is 70-year-old white male pro-war conservatives, this guy is gloriously and awesomely anti-war.  For example, have you seen his epic takedown of John Bolton from last year, just months before Bolton, and his frightening and off putting mustache, were hired by the Trump Administration?  The subject was, as one would expect, foreign policy, with Bolton defending his support for the Iraq war and extreme hawkishness in general.  Anti-war Tucker bodied him.  It was brutal and epic, one of the most breathtaking six minutes I've ever seen on cable news.  Do a search on youtube for "Tucker Carlson John Bolton" and prepare to learn what shock and awe truly means.  And that's just one example.  (Bolton was allegedly furious afterward, at first believing he was sailing into safe harbor, only to get torpedoed on his way to his White House job interview.  Then he got the gig anyway.) 
So let's deal with the controversy at hand.  As is the case in today's media and political culture, the past is always the wolf at the door, ready to burst in at any moment and devour you.  Some comments have been unearthed from a number of years ago of Carlson saying some very controversial and politically incorrect things on a radio show.  (I won't reprint what was said here.  If you're reading this you likely already know what was said, or you're going to want to look, but we won't dignify the remarks in this space.)  Tucker's comments, taken as they are, seem quite damning and reprehensible, and were described by the left-leaning Media Matters as very "shock jock." 
This is where things get a little tricky, as we have to apply some nuance, an unpleasant element to introduce into any discussion for binary thinkers.  The Social Justice Warriors, the PC Police, and the Outrage Brigade will never accept this, but context and intent matter.  These details may not excuse or justify anything that was said, but they matter, whether you like it or not, and whether or not it supports your preferred ideological narrative.  
As I was going through the story on my radio show, Matt Connarton Unleashed, I read that the comments were made by Carlson over the course of several appearances on a radio show hosted by someone named Todd Clem.  In the moment, I honestly couldn't think of who this was, and I was surprised that I had never heard of the guy.  It wasn't until after I had wrapped up that I realized that Todd Clem is the given name of one Bubba The Love Sponge.  (Sound familiar?  He's a Florida-based regionally syndicated shock jock.  He also was in the news in the last few years as part of Hulk Hogan's lawsuit against Gawker, as it was Clem's wife, Heather Clem, who is in the Hogan sex tape.  Charming, no?)  So Tucker Carlson made these statements while appearing on a comedic radio show where the core tenet of the program is to say shocking things.  Personally, I'm a big fan of shock humor.  That's not in any way to suggest that anything Tucker said was actually funny, but I do get it.  And before you judge me too harshly for enjoying that type of jarring, unsubtle, disturbing at times humor, let me point out that many of you enjoy it too.  That approach to humor and satire is not limited to radio shows, but is also common on television programs such as Family Guy and South Park, perhaps the last mainstream vestiges of the type of laughs that make you squirm a little while you're laughing. 
Like I said, context matters.  I'm no great defender of President Donald Trump, and if you're a listener of my show, you know that I take great joy in lampooning him.  Having said that, I've always been bothered by instances where people have taken verbiage of his appearances on Howard Stern from over a decade ago and tried to use that against him.  What he said on Howard was not to be taken literally or seriously.  Trump, as difficult as it seems to believe today, at one time had a fairly acerbic sense of humor, and was unafraid to laugh at himself.  Perhaps in the light of how humorlessly he comports himself today, it's easier than it should be for some to believe he was serious when he said "If Ivanka weren't my daughter I would be dating her," but he was clearly kidding.  And it's uncomfortable to hear him say that, which is exactly what made it funny in that environment.  That's why he said it.  He was in on the joke, and so was everyone else at the time.  Today it's used against him and it's intellectually dishonest to do so. 
I employ similar tactics on my radio show.  My program is largely political in nature and content, but I've got some shock jock in me, no doubt about it.  I like to mix politics and commentary with some comedic bits and really edgy, envelope pushing rants that go off the rails.  (I realize this might not sound original, as my description of what I do is similar to what Don Imus used to do.  However, unlike Imus, I don't mumble, nor do I dress like a cowboy, and I have never been fired for saying something racist.  Also, I'm actually funny, though opinions may vary and reasonable people can disagree.) 
Actually, my entire life I've taken a perverse delight in blurting out things that others find shocking, to humorous effect.  There is, however, a certain art to it, and it's something that I think has partially been stolen by the hypersensitivity and political correctness of our time.  It's only funny if you know that the person making the shocking comment doesn't actually mean it, hence the shock value.  Conversely, if all you're doing is blurting out something terrible that you actually do believe, or people suspect you to believe, then there is no joke. 
I can demonstrate the aforementioned principal.  A couple of months ago on my show, I was joined in studio by my partner Jenny, as well as frequent contributor Jon Hopwood.  I don't remember exactly what the subject was or what led me to say what I said, but at one point I did something very sexist.  As Jenny was expressing her opinion on something, I looked at Jon Hopwood, and while pointing at Jenny I blurted out "Can you believe this broad?"  In the context of the moment, this was actually very funny.  Jenny responded with mock exasperation and shock at my behavior.  But the reason I felt comfortable saying something like that was that I knew she was in on the joke.  Anyone who knows me at all personally would be shocked to hear me say something like that, and that's what made it humorous.  Also, I trust that my audience knows me well enough from hearing me on the show to know that I'm not serious, but again, it's the shock of hearing me say that.  Then there's also the anachronism of me using a term like "broad" that absolutely no one from my generation has ever used to begin with.  But the point is, everyone is in the joke and gets it. 
So why is it easy for me to get away with something like that today, but Tucker Carlson's comments from long ago come back to bite him in the ass?  Well, for starters, Tucker is very famous, whereas I am slightly less famous.  And by slightly less, I really mean much less.  And by much less, I really mean not at all.  So it's far fewer people who care what I say.  But the real problem for Tucker is that it's easy pickings for his critics and opponents to build a case for why they think Tucker wasn't jesting, but actually revealing something with his comments.  
At this point, Tucker Carlson is refusing to apologize and is instead digging in.  He made a statement on his show lashing out at the very same set of people that I've criticized for their intellectual dishonesty and operating in bad faith, and he has a point.  Where he has failed, however, is to clarify and to offer context, which is not the same as acquiescence or admitting fault.  If he's committed to seeming petulant and obstinate, he can still do that while at least offering a simple explanation of the circumstances surrounding his comments. 
Unless of course it wasn't a joke at all and he really does feel that way.  
Damn.  Well, at least he's anti-war.